Batch Script Processor — The Ultimate AutoCAD scripting utility!
Batch Script Processor is a utility that will allow you to easily run any AutoCAD script file on multiple AutoCAD drawing files or DXF files. Scripts allow AutoCAD to run unattended thus permitting great productivity for repetitive operations like purging or plotting batches of drawings. If you have a process that you need to perform on a group of drawings, then Batch Script Processor is your solution!
Explorer-like navigation, tabbed interface, more!
Script Step-Thru: Check the results of your script line by line in AutoCAD. Quickly find errors in your script!
Enhanced script editor with syntax highlighting. Great for catching extra spaces, carriage returns, etc.
Easily create scripts for Batch Plotting, conversion, etc.
Drag-n-drop to create custom sort orders for file processing.
Quick Script Access: Have your own library of commonly used scripts available for quick access.
View logs for the entire process, or individual files
Save and Load commonly used groups of drawings for processing
Displayed status of all files: Error, Done, ToDo, etc.
Capture the script directly from the AutoCAD command line.
Recursively search directories.
Automatically abort drawing if the scripts takes too long.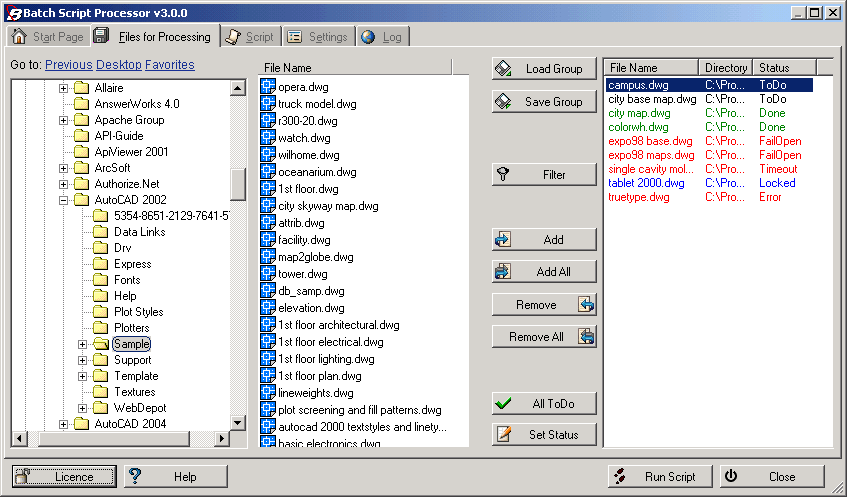 (Click Image to Enlarge)
$90
Single User BSP 4
$495
Network BSP 4
$90
Single User BSP 3 (AutoCAD 2010-2014)
AutoCAD Compatibility: 2017 - 2023